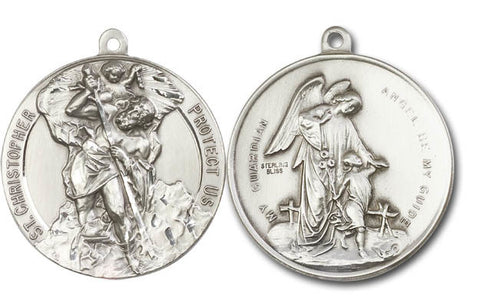 Unique Saint Christopher Medal
If you are looking for a large, high quality St. Christopher medal with chain, then we highly suggest you take a closer look at this beautiful and stunning medal! This is a high relief medal, meaning the images on the medals are raised higher than the edges of the medal itself.
Therefore, giving the medal a three dimensinal look. Some of the more sort after and highly collected coins are made utilizing this same high relief method.
Our Unique medals are manufactured utilizing some of the same methods used by artisians in the late 1800's!
Unique St Christopher Medal

Gaurdian Angel On Back

Solid .925 Sterling Silver Medal

24 Inch Stainless Steel Chain Necklace Included

High Relief Medal

Gift Box Included

Free Shipping

Made in U.S.A
Size: 1 1/2 x 1 5/8